It's hard to imagine there was ever a time when bobbleheads did not exist. Click here to learn everything you need to know about the origin of bobbleheads.
Few toys bring a smile to one's face quite like bobbleheads.
From celebrities to everyday folk, they have the power to transform anyone from a mere mortal into an animated character bopping merrily along.
Thus, it's no wonder why these novelty gifts continue to fascinate and amaze us. They're imaginative, creative, and downright fun.
Yet, did you know they have an equally fascinating backstory? It's true!
Today, we're taking a look at just how bobbleheads came to be.
As we explore the path that led to their creation, we'll discover some little-known facts about them as well. These will help us to better understand the magic and mystery behind our favorite desktop or dashboard accessory.
Ready to learn more? Let's dig in!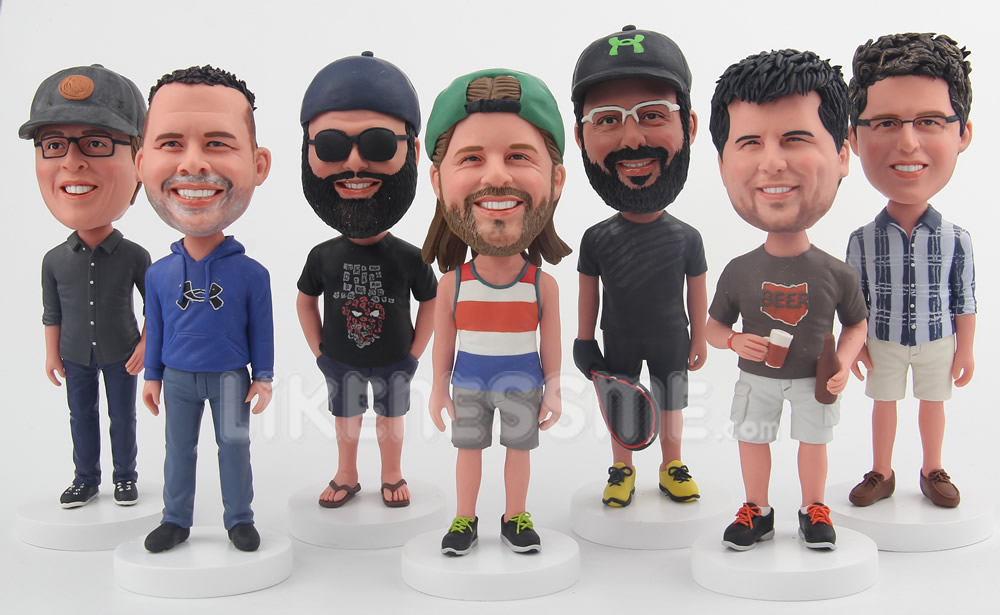 18th Century "Nodding Heads": Where It All Began
The prototypes for what would become known as the first bobbleheads were first spotted around 1760. They were found around England and Continental Europe.
The dolls spotted around this time were referred to as "Nodding Heads" and are believed to be of Chinese origin.
The first time their use was recorded was in 1765 when notable 18th century artist Johann Zoffany captured them.
Zoffany, a painter of German descent, was one of the most prolific artists of his time. He captured everyone from royals to cockfighters in and around Germany, Italy, India, and England.
One of his better-known works is Queen Charlotte with Her Two Eldest Sons. Zoffany captured the English royal in her dressing room. As he did so, he was sure to also paint into the picture the two nodding heads that Queen Charlotte kept in the space.
There's no evidence of a solid link to future growth. Yet, one cannot overlook the inclusion of these decorations by such an illustrious painter. This may have been the catalyst for the craze that was about to take over the nation.
The Prince of Wales Leads the Trend
Though Queen Charlotte may have been the first known royal to appreciate the joy of bobbleheads, she wasn't the only one.
In fact, the Prince of Wales, who would later become King George IV, developed such an affinity for Chinese decorations such as those that he commissioned a Chinese Drawing Room during his tenure at the Carlton House, his London residence from 1783 to 1826.
In 1802, the Prince took his design inspiration a step further. He set out to design his seaside retreat, Brighton Pavillion, in a lush and opulent Oriental style.
Also known as the Royal Pavillion, the palace was chiefly decorated by the Prince and his two trusted designers, John Crace and his son Frederick Crace.
During the 25 years it took to complete the Pavillion's interior, the main focus was on implementing a Chinoiserie style.
In short, Chinoiserie is the style in which Europeans seek to recreate the art that defines the Chinese and East Asian cultures.
In the corridor of the Pavillion, the Prince displayed multiple nodding-head figures in prominent locations. This further illustrated his devotion to Oriental artistry.
As a result of such attention to bobbleheads and their associated decor on a royal scale, people around the nation, and even from across Europe and America, began importing them to decorate their homes as well.
The surge began around the 1780s. It continued well into the 19th century, where they gained a little more ground on their path toward popularization.
The 19th Century: Notable Mentions
A glimpse of two bobblehead artifacts from the 1800s gives some sign of their steady climb in popularity.
One is a pair of bobblehead figurines, known to be from around the year 1800. This pair was constructed of painted plaster and depicts a husband and wife of Mandarin descent.
The pair were created as stretching their arms out to each other. They are both wearing ornate, gold-edged robes with floral details. His robe is a light blue and hers is a light gray.
The figurines were mounted on partially gilded bases comprised of wood simulated to look like marble. They stand 15 and three-quarter inches tall.
The reason they are so mentionable in this timeline of the history of bobbleheads?
This pair sold for just under $36,000 at a 2010 auction.
The fact that such a high price was offered demonstrates their worth and significance. It also allows them to take their place as some of the earliest examples of what would become a pop culture phenomenon.
The second artifact of note is Nikolai Gogol's short story, "The Overcoat."
Gogol, a Russian author born and raised in Ukraine, published the story in 1842. It went on to become his most well-known and revered short story.
The story's main character, Akaky, is a Russian bureaucrat. Gogol describes him as having a neck "like the neck of plaster cats which wag their heads."
This line was a direct reference to the plaster bobblehead dolls prevalent at the time, which indeed would "wag their heads."
Perhaps it took this mention of bobbleheads in such a prominent work of literature to jumpstart the trend on a more global scale. As the 20th century began, it proved true that they were here to stay.
The 20th Century A Home Run for Baseball and More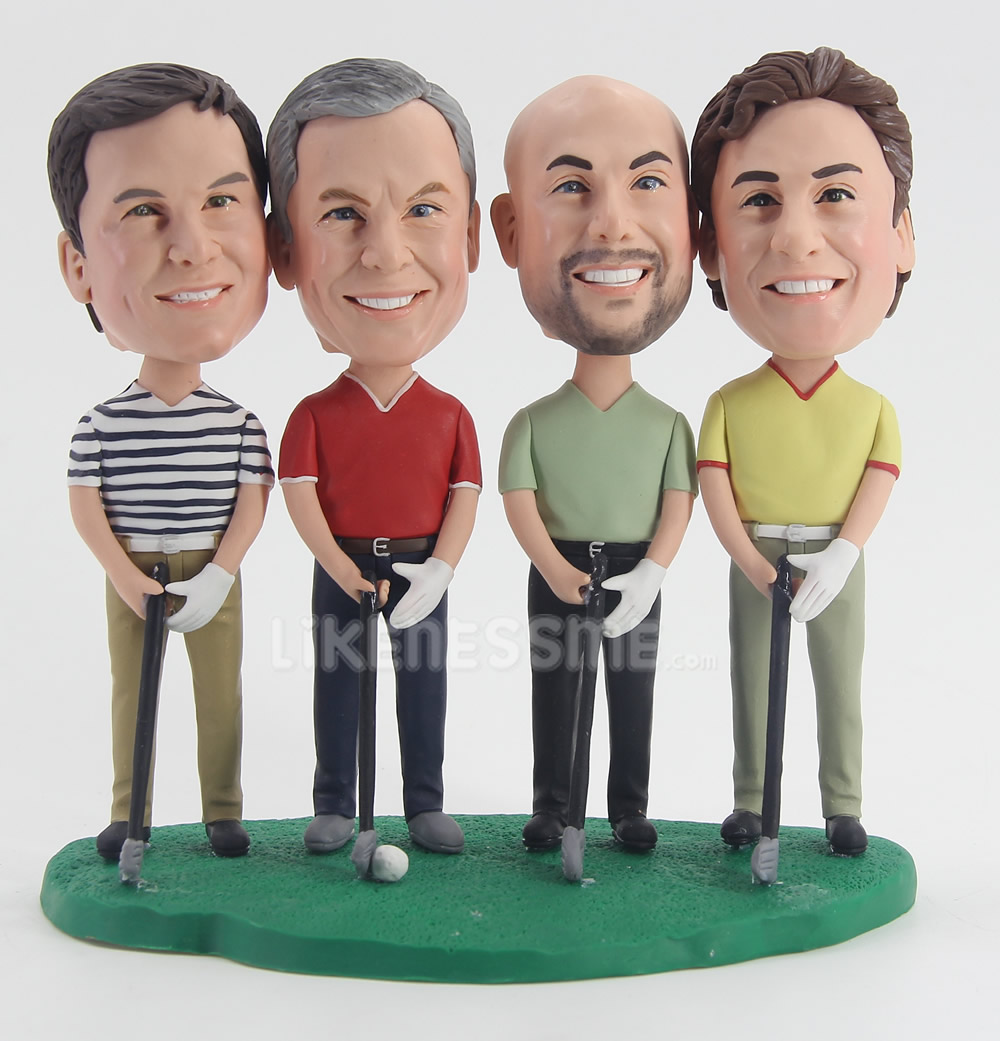 As the 20th century began, the Chinese influence of bobbleheads wasn't limited to royal palaces and short stories. Rather, it took a wider stride as well.
As such, it catalyzed a new wave of interest in the bobblehead trend as countries around the world began to take notice.
Germany was one of the first countries to jump on board.
In this country, they were often produced in the form of animals standing between six and eight inches tall. They were comprised of ceramic clay.
Then, around 1920, the United States began to realize the trend. Manufacturers saw it chiefly as a promotional opportunity to build brand recognition.
As such, the sports industry was the perfect place to introduce them to the mainstream masses.
Most collectors agree and acknowledge that a generic basketball player bobblehead created for the New York Knicks in 1920 was the first ever sports-related one.
Though this is a typically agreed upon fact, it raises eyebrows because the Knicks weren't established until almost 30 years later, in 1946.
Though some confusion might exist around the specific start date, the reality remains that the first sports-related bobblehead has a connection with the sport of baseball.
By 1960, the sports craze had fully caught on in the United States. Major World Series stars such as Mickey Mantle, Willie Mays, Roger Maris, and Roberto Clemente all saw their likenesses reimagined in the form of bobbleheads. These were comprised of both ceramic clay and a new medium, paper-mâché.
Here, it's important to note that these were the first sports-related ones created on an individual level, not as a mascot.
Yet, the distinction of which player was which had to come from the jerseys each figurine was wearing. Although they wore different uniforms, each was sporting the same head!
These were trademarks of the baseball-loving culture prevalent in America. Yet, very few remain. This is because their paper-mâché form was unable to hold up after years of wear and tear, making intact ones incredibly valuable.
Bobbleheads Erupt: Their Non-Conventional Rise
For years, bobbleheads remained primarily a sports-focused item. Yet, it didn't take Americans long to realize that they had a little more potential.
For instance, during the thick of Beatlemania in the 1960s, bobbleheads of the band members became some of the hottest commodities to buy.
The Beatles set remains some of the rarest and most beloved figurines of their type. This is due to their overwhelming popularity.
As the frenzy grew, American manufacturers began to experiment with the items. They brainstormed new ways to create an old favorite.
They came up with a bobblehead design that featured a baseball player standing on a gold base, with a slick and shiny exterior.
Though these looked regal, they were actually ineffectively made.
The gilded exterior was actually hiding a low-quality interior. The figurines themselves would chip and crack without much force.
As such, very few remain today. Those that do are considered prized possessions and are passed down from one generation to the next.
Around 1990, manufacturers would realize that plastic-made ones were sturdier and more long-lasting. This improved manufacturing efforts and quickened the pace of production.
The 1900s saw a substantial growth for bobbleheads, which would continue into the 1990s. Yet, their popularity did spike downward for a brief moment.
Around 1970, collectors began to shift their focus more toward accumulating and reselling other novelty items. Examples included lunchboxes and action figures. Thus, their attention diverted from away from them — but only momentarily.
In May 1999, a promoter opted to bring the baseball-oriented ones back into the realm of sports. These were designed with the likeness of Willie Mays and reminded spectators of some of Mays' contributions to the sport of baseball.
The distribution that month was especially poignant. The team was celebrating 40 years at Candlestick Park. The toys were passed out to commemorate the event.
The fans responded very favorably. The reaction was so impressive that baseball teams around the country took note. Then, many began to offer them as part of their promotional outreach efforts as well.
A Concept Reimagined: Bobbleheads in the Digital Age
As bobbleheads became more mainstream in America, they took on a wider variety of shapes and concepts.
For instance, items thus far had been created as a person, with a head that nodded, or "bobbled." Yet now, manufacturers were taking the basic bobblehead blueprint and applying it to objects around both the home and the office.
It came as no surprise, then, that in the year 2000, the bobblehead as consumers knew it took on an entirely new life. Designers created ones in miniature sizes, as well as in the likeness of banks, air fresheners, and more.
Yet, for all their variation, they remained a sports fan favorite — particularly in the baseball stands.
In fact, in 2002, the collection began for the National Bobblehead Hall of Fame and Museum.
The impetus for this amassing? As a staff member for the Rockford RiverHawks, a professional baseball team from Rockford, Illinois, Brad Novak came across many of the collectibles.
When he opted to sort and store them, he became Co-Founder and President of the Hall of Fame and Museum, turning a simple pastime into an entity much greater.
As the 21st-century rolls on, it's interesting to note how bobbleheads and baseball continue to go hand-in-hand.
By 2010, more than 330 bobblehead-based promotions had been distributed at baseball parks across the nation.
The team leading the pack? The Giants. As a team, they've done more than 75 promotions that center on bobbleheads, and show no sign of slowing down.
Another team making headway when it comes to matching the Giants' use of them? The Marlins.
In March 2012, the Marlins played their first ballgame at their new Marlins Park in Miami.
Their way to mark and celebrate the opening of the new park? A bobblehead museum of course!
In all, the museum features a double-sided case with 609 spaces to hold bobbleheads. These spaces represent every team in baseball, a nod to the sport's connection to America's favorite pastime.
Adding to the experience, the display case features a built-in vibration mechanism. This ensures just the right amount of motion that they continually sway up and down, as if on cue.
Custom Bobbleheads: Design One Today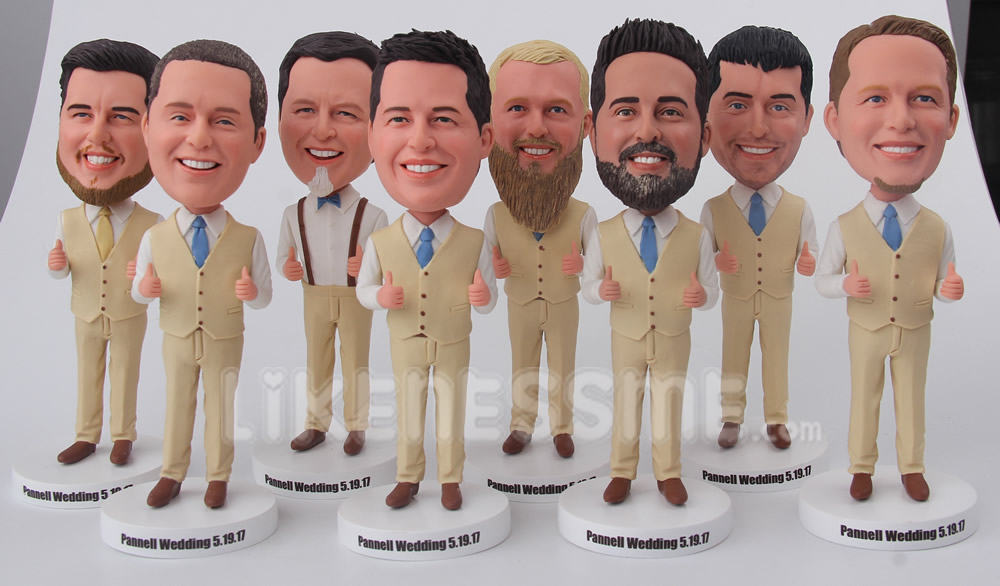 Now that you know a little more about how bobbleheads began, let's talk a little bit about their future.
Today, you're not limited to your design choices when it comes to picking out a bobblehead. You can even have a bobblehead created of yourself or someone you love!
Looking for that perfect groomsmen gift? What about a pair for that special couple in your life?
If you can dream it, we can create it. We're a custom bobblehead company dedicated to bringing your vision to reality.
To get started, feel free to browse some of our best sellers. Then, check out how to order.
Got any questions, or have any ideas? Feel free to reach out. Let's design something you love!