You are probably wondering by now, where you can get the best custom bobbleheads. There are quite a lot of companies out there making bobbleheads but I'll just mention the few that have been given 5 star recommendation by their users.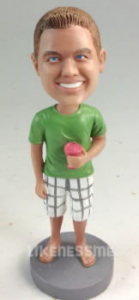 Drumroll…..
Well I didn't give you much of a choice there, but likenessme does have the best custom made bobbleheads around. Likenessme customers usually get awe struck by the striking resemblance that the bobbleheads have to them together with the whole body remake. Think of it as a mini-you agency that gives you a copy of you at a minimal cost. So far they are the ones who make it as unique as possible, that's why their customer rating is higher.
Their quality is top-notch and the bobbleheads are a lot bigger between 8.5 and 9 inches. Everyone nowadays wants it bigger and quality is not a compromise. Most bobblehead providers use poly resin whereas likenessme products are made out of polymer clay. The difference? The color is the clay so the end product comes out with a brighter tone and true 3D likeness not to mention higher quality.
The other factor is delivery. We all know how important it is to have everything on time without last minute rushes. Likenessme has a popular rating on timely deliveries. You hardly have to worry about postponing your gift for another day because it never arrived on time. They value your time and together with one of the best customer care professionals in this industry they try to make sure that their products satisfactorily reach their destinations on time.
So there it is, don't stress yourself about where to get your bobblehead from. Simply order one from likenessme.com for the best quality your money can buy.