If you happen to be a patriotic enthusiast of our presidents then what better way to show this that having a presidential bobblehead. Many people usually have their own favorite presidents through history that they adore and emulate. For this reason you can always get a customized version of those presidents and have them neatly displayed in a glass cabinet in your home or office. You can also hang one on your car deck.
Why presidential bobbleheads? Well they are usually educative, and better yet they are super fun. Imagine creating a customized funny piece of your president doing something outright hilarious and putting it up in your home. You will definitely be cracking many ribs in your home with these pieces. They can also come in a particular size and colours and you can even customize the clothes, accessories and shoes that the bobblehead is wearing.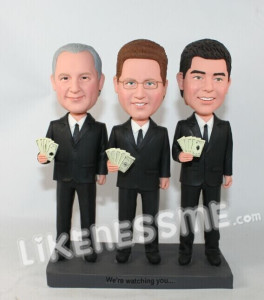 Many people nowadays are also customizing their faces into that whole presidential look and having their bobbleheads done (this won't make you get to the oval office any quicker though). You can also try it out and see a 3d bobblehead of you standing like a president, it sure is fun and you can also play around with the customizations to even include the national flag colors as well.
Far from the fun part, for those people who are genuinely interested in having the presidential bobbleheads, of the real presidents, in their home as a collection will find them interesting. Not only do they showcase the rich history of the country but they also bring out a form of life likeness which can only be brought out the bobblehead way. So get down to creating your own presidential bobblehead today and you will only regret why you did not do so early in the first place.