There are many reasons why our customers purchase bobbleheads of themselves. So, don't worry too much about asking the question of how you get one. We don't think you're strange or odd. In fact, we think you're really cool because you must appreciate the products we dedicate our entire working lives to creating. Getting a bobblehead is really easy, and anyone can do it by following the step-by-step guide outlined below. Don't worry if you encounter any stumbling blocks or you have any concerns because our team is always here to help, and we can guide you through the entire process if you get stuck.
Why get a bobblehead?
People order custom bobbleheads of themselves because they are fun products that are sure to put smiles on faces. They're perfect for amateur sports teams who want to commemorate a successful season, and they're ideal for entrepreneurs and business owners who want to bring some enjoyment into the office. Some people decide to get bobbleheads of themselves for hundreds of other reasons too. The items are built to last, and so they will stay looking fantastic for many years.
How to get a bobblehead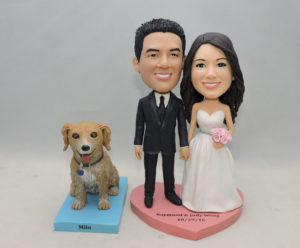 If you want to get a custom bobbleheads of yourself or someone else from our website; you need to follow the steps outlined below:
Step 1: Designing your bobblehead
Before you do anything else; you need to click over to the appropriate page on our website and start the ball rolling by making some selections. We'll ask you to choose a body type from our extensive gallery first. You then need to select hair, complexion, eyes or other options in the order form before uploading three pictures (some people might call them mugshots.) We need a profile pic of your face from the front, and with your head turned to the left, and then to the right. We'll start working on your bobblehead as soon as you check out, and it doesn't take us long to get the item finished.
If you want to know more about our designs and the results we can achieve; take a look at some of the products listed on our website right now.
Step 2: Approving our proof
We are 100% committed to making sure you are happy with the custom bobblehead we create. We also know that people might make mistakes when selecting options if this is the first time they've used the service. That is why we never send the design to production until you are satisfied and you give us the green light. Around nine days after you place the order, we will contact you and provide you with a link to our interactive panel. You get to see a proof of the design, and you can communicate with our team if you wish to make any changes or alterations before we push ahead.
Step 3: Manufacturing and shipping
Once you approve the proof we send (and sometimes you might want us to make some alterations which can add to the production time,), we will start manufacturing your bobbleheads. You provide us with shipping details, and we send the items in secure packaging to your address. Standard shipping takes three to four weeks, but don't stress; we have some urgent shipping options too for people who need their products fast. In some instances, it is possible we can ship the goods in five days.
We use only the best and most reliable couriers to ensure your custom bobbleheads get from A to B in perfect condition, and you are always happy with the results. Right now, we use DHL/FedEx which means customers should receive their orders between three and five days after we ship the package. You get a tracking number from us so you can follow the progress of your delivery and ensure someone is home to accept it when the driver arrives. We can deliver to your home, workplace, or anywhere else. Just let us know!
After reading all the information and advice on this page; you should now understand how easy it is to get hold of custom bobbleheads of yourself or your friends. Take a look around at some of the product listings on this website if you want to learn more about our designs and the quality of our work. We also take the time to publish testimonials, and you can find the link at the top of our homepage. If you have any concerns, read some of those reviews, and we're confident you'll be more than satisfied with the outcome.
We look forward to creating your custom bobblehead!