Let's face it, Mother's Day is a huge day. It is the one day a year that you are to celebrate the woman who gave birth to you, soothed you when you got hurt, and was always there for you no matter what she had going on in her life. That adds up to a lot of pressure to show her how much you care and are thankful for all she did for you.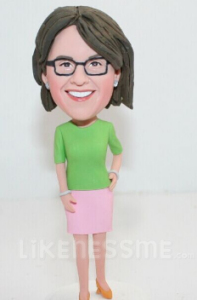 Most people also have a mother-in-law to buy for too. This can be a huge dilemma since you want to make sure you get the perfect Mother's Day gift since most mothers believe nobody is good enough for their precious son or daughter. This is where you can change it up and surprise her and show her how much you care, not only about her son or daughter, but her too.
Don't forget that mothers love flowers, especially their favorite flowers but you can also get her a present that will bring a smile to her face and maybe even make her see you in a new light for your outgoing and thoughtful nature for that special day. Even though she didn't give birth to you, she did give birth to the person you love. Without her, you wouldn't have the person you love in your life. This makes her a special person that you want to show how much you care for all she did.
Trying something new can be scary, however, her face will light up with joy when she opens up a unique, custom bobblehead. There are other options as well. If she is extremely close with the person you love, you could always get her a custom bobblehead of her son or daughter. It is a gift she will love to show to all her friends and the rest of the family.
A bobblehead for Mother's Day can show you put extra thought into your present. As for your own Mother, she will love a custom bobblehead or maybe a bobblehead figure of her favorite movie star, singer, or even of your Father. Watching their faces light up with joy is all you need to see to know that they are surprised and pleased by your thoughtfulness. Letting your Mother and/or Mother-in-law know how much you care for all they have done over the years is a priceless gift to them. Getting them something more personalized shows your initiative to make their special day even more special.