For the fun, happy couples, bobblehead wedding cake toppers can be the perfect match on their big day. Elegant or funny, these customized dolls can be a brilliant way to remember your special day for years to come.
Bobbleheads have regained their popularity in the last two decades, evolving from artisanal clay figurines to high-quality, durable products you can customize to your liking. The oversized bobbling heads are something you can never get bored of, and the high number of dolls you can spot in homes or car windows are living proof of that.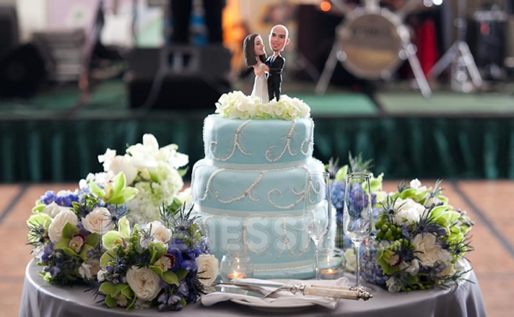 The history of wedding cake toppers
First of all, let's learn a bit about how these cake toppers came to be a usual sight at weddings all around the world.
While the history and tradition of having a wedding cake go back to the ancient times, the bride and groom cake toppers are much more recent. The wedding cake often represents the unity and joint love of the two newlyweds. The traditions surrounding the wedding cake are often rituals of luck and commitment, the cake being used as a symbol of fertility and luck.
An anecdote about the birth of the wedding topper tells the tale of baker's daughter that was getting married. She asked her father to come up with a way to honor her sacred union and to include it in the cake's design. After many deliberations and ideas, her father decided to model two little figurines representing the bride and her groom and to place these dolls on the top of the wedding cake. His daughter was so impressed and moved by his gift and the perfect way it represented the pair's love for each other.
The wedding cake topper as we know it today was increasingly popular in the USA in the 1950s, when they often represented the bride in her white dress and the groom wearing a military uniform. The figurines represented the commitment the pair would make, especially through hard times, when the men were on the battlefield and their wives waited for them back home.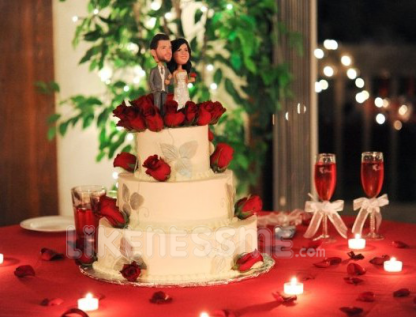 Why choose bobble heads as wedding cake toppers?
Traditionally, the wedding cake toppers are classic figurines representing the bride and groom. Originally, they would be modeled from wax, sugar icing, wood or porcelain and were more symbolic than perfect resemblances of the persons getting married. Bells or flowers were also used often to represent the pair.
More recently, as weddings started to have more untraditional themes, the wedding toppers were also adapted to the modern bride and groom. A much wider range of toppers can be found today and they often match a general theme based on the pair's passions, common memories, and personalities.
Bobblehead toppers may seem fit only to fun-loving pairs, but they are so versatile that you can create a perfectly elegant and sober decoration for your wedding cake. The possibility of customizing them to the smallest detail makes them so perfect to celebrate this special day. The two figurines will resemble the bride and groom perfectly and can also be fitted with props and different clothing.
Ideas to personalize your wedding cake toppers
The most common bobble head cake toppers stick to the traditional bride and groom in their attire, but the possibilities do not end here. You can start by deciding if you want a funny topper, a classic one or even a mini topper for smaller cakes.
Everything can be personalized, from the dress and suit to the base of the topper. You can place the pair on a sandy beach, a grass meadow or even in an urban setting. You can also incorporate vehicles, props and you can even have your pet joining the topper. Palm trees, neon signs, and even Christmas trees can be part of the picture.
The two figurines can stand next to each other or even dance, carry one another or ride in a convertible Beetle. Add hats, glasses, jewelry, and custom shoes and clothes for an accurate depiction of the two lovers. And who says you need to include only two people? You can fit your whole family on your wedding cake!
Forget about freezing the top tier of your wedding cake for your first anniversary and display your wedding topper in your home instead. You can keep this delightful wedding cake topper for years to come and it will definitely be a great conversation starter when you have guests. It's even better if you got the figurines as a gift from your family and friends because it shows how well they know you and how they wanted to immortalize your special day.
Choosing bobblehead toppers for your 50th anniversary would be a wonderful proof of how beautifully you grew old together.