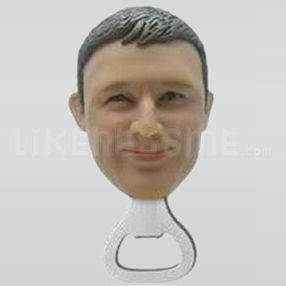 Custom Head On Bottle Opener
$67.97
$50.98
Item#: WP11484
You can't find your ideal model, you please choose "Head-to-toe custom" and design the bobblehead dolls completely by yourself.
Order now, you can expect the receipt date 6-35 days. (according to your requirements)
Customize a bobblehead doll to fit your circle of friends sense of humor, encompass your inside jokes, and play off your silly jokes and memories. Whatever details you need to memorialize the memories can be included.
We sculpt our dolls to look like the photos you provide to us with great detail. All we require is a good front view to capture the look of the person you want to make for.
Most of our dolls are between 6.5-12 inches. Sizes can vary as all of our pieces are hand made.
We proudly offer FREE approvals in the different stages during the creation of your hand sculpted bobblehead doll.>> More.. Changes can be made like making the nose wider or lips thinner - this means a great deal when sculpting your doll to ensure satisfaction. During the process, we send head proofs, hair proofs, body proofs and final proofs to your email. Each step can be approved or modified, if a change is requested, we will amend the doll and provide a new proof - if it is approved we will bake that step and move towards another proof. After approvals are received, we bake and process your dolls, we can not go backwards.