Custom casual bobbleheads for him is a great way to appreciate someone in your life for all the hard work they put in. If you're looking for that perfect gift for him, then look no further. They are inexpensive but they last a lifetime.
Our dolls are well sorted after because we pay attention to detail. We sculpt them to look like the photos you provide to us. All that is required in the photo is a clear front view of the person you intend to make it for and viola you've got yourself a one of a kind casual bobblehead doll. Below are top 6 custom casual bobbleheads for him.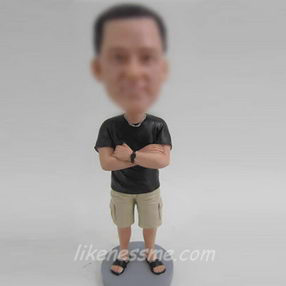 Shorts are one of fashion most comfortable staple cutting across all cultures with warm temperatures. Do you have a favorite pair of shorts that you will love to immortalize? Your best bet will be to do it in a bobblehead figurine.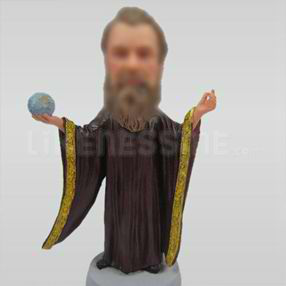 Members of the clergy are very important and sacred individuals to many. These are formal leaders within certain religions. Although their roles and functions vary from religion to religion, one thing they are known for is presiding over specific rituals and teaching religious doctrines and practices.
These men and women of all faith serve our needs in times of happiness and in times of sorrow, and they are always there when we need them. Why not send them a gift this holiday season with this customized bobblehead figurine.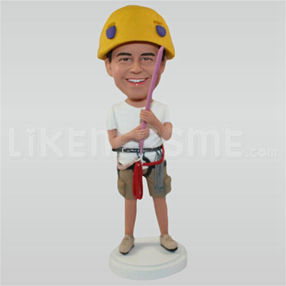 Rock climbing is not a sport for the faint-hearted. The goal is to reach the peak of the climb without falling, not so many people can achieve that. Rock climbing is a physically and mentally demanding sport, one that often tests a climber's strength, endurance agility and balance along with mental balance. It can be a dangerous activity if you do not use climbing techniques and proper climbing equipment.
With all the obstacles involved in this sport, you might want to record your best climbing experience with a custom handmade bobblehead figurine.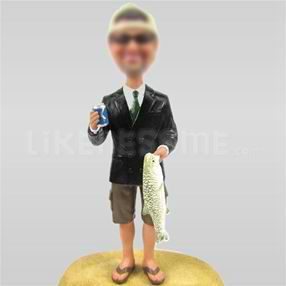 Fishing can be a lot of things to many. It can be a hobby or for meditation, where the fisher just catches and release, or where the motion is as good and as important as the catch. Fishing can also be a trade or a tool of survival, where what you catch you trade for money or you eat.
Regardless of the reason you fish, it is time to honor tradition or appreciate those around you that possess the act of fishing. Gift someone who enjoys the act of fishing this handcrafted man with fish bobblehead figurine to appreciate them for what they do.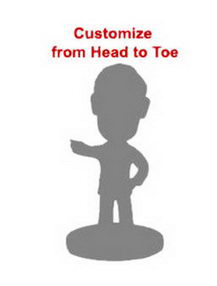 Do you want a fully customized bobblehead doll for someone or for yourself? Look no further, we can offer you your very own personalized bobblehead doll from head to toe. All we need you to do is when placing your order, describe in exact details what you need or better still send us a photo of the person and the setting you would like to memorialize. With the right details or photograph, our crafters can create a perfect bobblehead for you according to your specifications in record time.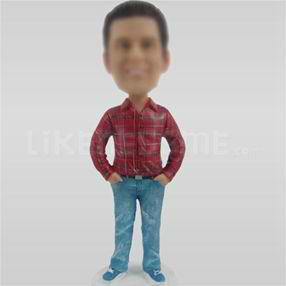 Fashion has since gone past being a mere element of costume design in our modern society and has become more of a lifestyle. If you take a good look at yourself or the people around you, you will notice that you've adjusted to a particular style and have become loyal fans of that style.
Why not customize one of the most fashionable bobblehead dolls for you or a loved one and get to see your style in it every day.
Rest assured that our dolls are uniquely made to give you the very best of bobblehead figurine. They are handcrafted from the best materials and sculpted to look exactly like the picture you painted or the photo you provided. Time is of the essence, do not waste any more of it and order for your customized bobblehead doll now.
To ensure customer satisfaction, we offer free approvals to enable you to make changes when necessary at different stages of the sculpting process. We send you hair proofs, head proofs, body proofs and final proofs to your email for your final approval. Each proof we send you can be approved or modified by you. This process is important because after the doll has been baked, we cannot go backward and since all our pieces are handmade, the sizes may vary, but most of our dolls are between 6.5 to 12 inches tall.